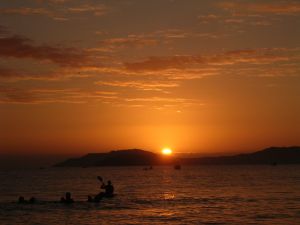 For many people, falling asleep — and staying asleep — isn't easy.
When I have an excitement-filled day, I may be happily awake after my bedtime… but I still need a good eight hours' sleep to wake refreshed.
I've tried medications — over-the-counter and Rx — as well as herbs and other food supplements such as calcium citrate.  Warm milk doesn't help, either.
Then I tried binaural audios.  They're recordings with binaural beats in them, usually behind music or sounds of nature.  For me, they've worked well.
Click to listen to my brief explanation of how binaural audios work
Binaural beats — sounds that create a meditative state — have helped me, but some recordings are better than others.  Here's a quick summary of the ones I've tried:
Evening Reverie by Steven Aitchison
Rating:





Evening Reverie was one of the series of downloads I received through Steven Aitchison's Binaural Heaven program.  At this time, I don't think you can buy it individually.
Unlike his Deep Sleep recording (reviewed next), this recording seemed generally relaxing, but not consistent.
I tried it a couple of times, and both times I felt anxious.  Those episodes were fleeting, but odd.  Being an innate control freak, I suspect the recording took me too quickly to the Delta level… but I'm not sure.
Others may not have the same experience with this recording.  Personally, the anxiety was so counter-productive when I was trying to fall asleep, I've retired that recording from my listening shelf.
Deep Sleep by Steven Aitchison
Rating:





Unlike Evening Reverie, reviewed above, Deep Sleep delivered exactly what it promised.  The first time I listened to it, I was asleep in about three minutes.
And, though it was an unusually stressful and sad week for me, I slept soundly and had happy dreams.  I literally woke up smiling and refreshed… after just six hours' sleep.  (I normally need at least eight hours.)
On a second listening, I was awake for much longer.  However, I felt happily relaxed and just barely awake.
This recording will definitely stay next to my bed, on my listening shelf.
Like Evening Reverie, this recording is only available to subscribers of Binaural Heaven.
Click here to learn more about Binaural Heaven
Sound Sleep by Brain Sync
Rating:





Sound Sleep is a Brain Sync product, available for instant download or on CD.
This recording takes you from your normal waking state to the Delta level of sleep, and it does this very smoothly.  This 60 minute recording contains no spoken or subliminal messages, just soothing music and the binaural beats that relax you.
From my experience with this recording, it eases me into sleep gradually.  I can generally listen to it while reading or working on a Sudoku puzzle for five or ten minutes, and then turn out my light for a good night's sleep.
Though I haven't been using Steve Aitchison's Deep Sleep for long enough to make a good comparison, I don't recall having unusually happy dreams with Brain Sync's Sound Sleep recording.  They were just normal dreams.
Brain Sync's Sound Sleep recording works well enough for me to use it regularly, rate it highly, and recommend it to others, especially for anyone who wants the beneficial effects without any added messages hidden behind the music.
Click here to hear a sample or to order Sound Sleep
Deep Sleep by Brain Sync
Rating:





Deep Sleep is another 60-minute recording from Brain Sync.  Like Sound Sleep, reviewed above, Brain Sync's Deep Sleep takes you to the Delta level of relaxation.
However, it has subliminal messages hidden behind the music.  The exact messages are listed on the Deep Sleep webpage.
I've had good results with this recording, but not great results as with Steve Aitchison's Deep Sleep and Brain Sync's Sound Sleep recordings.
For me, the vocals on Brain Sync's Deep Sleep may be too distracting.  I tend to hyper-focus on lyrics, and Brain Sync's Deep Sleep has a vocal track.
The problem is, the voices are singing notes in a way that sound a little like words… but not quite.  I find myself trying to figure out if they're singing "wahh, wahh," or "mwah, mwah," or even "pwahh, pwahh."
The latter make me laugh because I'm reminded of the chicken noises made by characters in the original Stargate movie.
If I could relax and ignore the sort-of lyrics, I might enjoy this recording more.  And, I'm telling you this entire story so you can judge for yourself if the sort-of lyrics might be an issue.  If you're like me — in the ADHD, slightly OCD band — they may distract you, too.
However, I expect that most people will listen to the free, sample recording online and wonder what I'm talking about.  They'll barely hear the vocals.
Even though this isn't my favorite sleep-inducing audio, I have it on my listening shelf for rare occasions when I want something different to listen to as I drift off to sleep.
Click here to listen to a sample of Deep Sleep, or order the recording