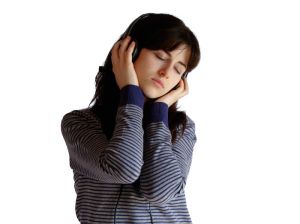 Audio guided meditations are recorded meditations — usually spoken words with a background of music and/or nature sounds — that take you on a virtual journey that helps you achieve one or more specific mental, emotional, spiritual or physical goals.
They can help you relax or they can energize you.  You may find a sense of well-being or even physical healing, after repeatedly listening to audio guided meditations created for that purpose.
Some audio guided meditations have clear spoken tracks; others have subliminal tracks that bypass harmful and limiting conscious barriers.
Most audio guided meditations last at least five minutes but no longer than an hour.  Most are about 15 – 30 minutes long.
At this website, we review meditation audios, as well as other kinds of self-help audios.  The following summaries are based on three individuals' experiences with each product line.
In general, we recommend the following:
Non-Subliminal recordings

Meditations 2GO (www.Meditations2GO.com) – CDs and instant downloads, affordably priced.  Good quality, and easy to listen to.
Reviewed here:
Restoring Balance and Clarity – Helps you get centered and recover your sense of confidence and clarity in any situation.
Releasing Emotional Tension – Methodically release the emotional tension that holds you back and keeps you down.  Ideal for mid-day breaks, and when you simply need a "time out" from everyday stress.
BrainSync offers both subliminal meditation audios and non-subliminal guided audio meditations.  We've tried both and recommend many of them.  We'll review some of their non-subliminal tracks at a later date.
Subliminal recordings
Subliminal recordings generally include music and/or nature sounds, and a spoken track that is just slightly below your conscious awareness.  There may also be a clear spoken track, guiding you through a conscious meditation.
Some of these recordings also make use of "binaural beats" to help you achieve optimum meditation levels to accelerate your progress.
Binaural beats and brain entrainment
Binaural beats are to hearing what stereoscopes and 3-D movies are to video.  Binaural beats give the recording extra depth, and — using a slightly different frequency in each earpiece of your headphones — helps your brain "tune in" to the appropriate meditation level for your goals.
BrainSync is one of the top brainwave therapy companies, offering subliminal and non-subliminal recordings.
Sound Healing is one of our favorites, whether you're coping with an injury, a headache, a medical procedure, or simple stress.  It's ideal for use when you want to fall asleep and wake refreshed.  It contains subliminal messages ideal for helping you heal mind and body.
The Secret Universal Mind Meditation's spoken messages did not fit our spirituality, but the meditation seems to work anyway.  If you believe in "The Secret," you may be astonished by the results of listening to this meditation.  We were, and we continue listening to it regularly, a year after purchasing it.
Immrama offers remarkable CDs — featuring different background sounds –  called Insight.  (We tested the gentle rain version, but the ocean one is equally pleasant to listen to.)  We still use this product regularly, and often prefer it over higher-priced brain "entrainment" products.  In 30 minutes, you can accomplish as much as you might with other programs that require a full hour, daily.  We listen to it at least once a week, and — after more than two years — still feel that we're achieving excellent results with it.
Holosync is one of the largest companies in the brain entrainment field.  While we could ignore the voice in the free sample, we were truly delighted with Holosync's "Level 0″ product, Prologue. It seemed to make a real difference in how we — all of us — felt about the world, and that optimism affected positive outcomes in our lives.
However, their Level 1 product — far more expensive — seemed less fun. It definitely seemed to contribute to dramatic changes in our lives, and none of us had the same cheerful optimism after listening to it daily.
Though we've heard favorable reviews from others, we've also heard from people who listened just once or twice and quit immediately.
We're somewhere between those two extremes:  We didn't stay with Level 1, but we've gone back to Prologue from time to time (with a pleasant result), and — now and then — listen to Level 1.
—
2011 update: Our staff have tried some of Steve Aitchison's binaural recordings.  So far, we like them and they seem to compare favorably with Holosync's more expensive program.
See our detailed reviews of Mr. Aitchison's recordings — including Energy Blast – Binaural Beats — in other articles at this website.
—
Generally, the audio guided meditations — and self-help audios — you choose will depend on your goals and your philosophies.  Some people believe that any path is the right one if it gets you where you want to be.  Others disagree heartily with subliminal recordings and/0r binaural beats.
Our staff come from a variety of viewpoints, and our individual reviews reflect them.
In general, we like professionally made self-help audios.  (Watch out for recordings by amateurs.  Unless they know what they're doing, they can produce unintended results.)
We also think that audio guided meditations can be very helpful when they're high quality and used responsibly, with a clear understanding of what you're using and how to get the most from it.
Photo credit: http://www.elitestockphotography.net
Like this post? Subscribe to our RSS feed and never miss a review!