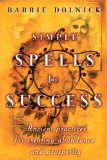 Simple Spells for Success by Barrie Dolnick is sort of "witchcraft lite."
If you're a witch or a practicing Wiccan, this book distills the basics into a fast, usable format.  It's like a beginner's recipe book listing all the supplies you'll need (usually household items), when to cast the spell for the best results, and the exactly what to do and say.
If you're not a witch and magic makes you a little uncomfortable, this book doles out a hefty dose of common sense (the kind we often overlook), so it's also a self-help book.
However, if your spiritual beliefs reject anything related to witchcraft, even "white" magic, this book is not for you.
From the front flap of this book:  "As any successful person knows, magic is the art of getting results… The most important part of any spell is belief and intention.  By identifying your goal or wish and casting a spell, you more your attention out from everyday life and its complications to the belief that there is a higher power."
In other words, this book takes basic magic and spells into the light, and makes them more of a meditation with accessories.
I tried some of the basic spells in this book.  The results seemed fast and impressive.  A noisy neighbor happily found another place to live.  An unexpected cheque showed up — nothing huge, and it may have been sheer coincidence — and that made me pause.
If you've thought about trying magic, this book is a fine introduction.  Even experienced witches may like the ease of these spells for business opportunities, personal power, and — of course — money.
Rating: