Rating:





Healing with the Angels by Doreen Virtue, Ph.D.
Few people understand angels as well as author Doreen Virtue.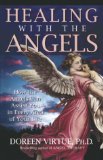 In this book, Ms. Virtue brings the healing messages of the angels, and shows you how to work with the angels that surround and protect you every day.
The "healing" in this book isn't just about physical health.  Doreen will show you how angels can help you heal relationships, body, career and family issues.
Her angel affirmations will support your self-confidence, and her angelic prayers will guide you to heal from childhood issues, find your soulmate, and recover from grief.
In addition, you'll read transcripts of Ms. Virtue's angel reading sessions.  Through the messages of the angels, you'll learn about the future and your Divine mission.
Doreen also describes other spiritual beings, including elementals and the tiny, Tinkerbell-sized faeries.
If you are an Earth angel — an incarnated elemental who is here to help others and this planet — Ms. Virtue guides you to the answers you seek.  You'll find how to trust your intuition.
The information in this book doesn't stop there.  In addition to healing techniques and advice from the angels, you'll discover how to re-energizing goals from your past.
Learn which stone to wear to attract romance; it's called "the love crystal." Or, find out which stone can raise the frequency of your intuition, to more clearly understand a situation and heal it.
Have you noticed a pattern of numbers when you look at the clock?  For example, do you seem to wake up nightly at 2:22?  Or, do you glance at the clock every afternoon at 4:44?
Is there a spiritual message in the legendary number, 42?
In this book, the angels share the secret messages in the numbers around you.
This is an information-packed book to help every aspect of your life.
Order your copy today or read others' reviews
at Amazon.com and Amazon.co.uk
If you like angels, be sure to read my review of Ms. Virtue's Healing with the Angels Oracle Cards.