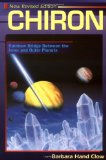 Chiron – Rainbow bridge between the inner & outer planets by Barbara Hand Clow is a breakthrough book for anyone interested in astrology.
It's not a new book, but its information has become essential in a world that seems to lurch from one crisis to the next.  If you seek a sense of direction or inner calm, this book may help you.
Chiron is the "wounded healer," and — according to Barbara Hand Clow — it's the planetary archetype of healing and transformation.
It's position in your astrology chart indicates where you have been wounded (or may be wounded), and the positive transformations that open to you as a result.
If you're familiar with the concept of healing stronger in places where you've been broken — as broken bones do — you'll like what Chiron shows you.
Chiron (pronounced "KY-rahn"), which orbits between Saturn and Uranus, was sighted in 1977, exactly when we, as a society, began desperately needing the information Chiron can provide.
In simple terms, Chiron represents the area(s) in which we're disconnected from ourselves… the missing link that helps our outer personality connect with who we are, within and as spiritual beings.
Clow's book isn't always easy to read.  It's probably most useful to experienced and advanced astrologers.
However, if all you have is a vague understanding of astrology and a free online astrology chart that shows where Chiron is in your own chart, this book is still well worth reading.
If you don't have your birth chart, go to Astro.com.  Select "Free Chart Selection" and then Extended Chart Selection. At that screen, be sure to add Chiron among your Additional objects.
What beginners will learn
For beginners, the most valuable chapters explain what Chiron means in relation to the astrological house that it's in. (House numbers — 1 through 12 — are on the "slice of pie" in your chart.)
You'll also learn from the astrological sign that Chiron is in.  (The latter is indicated in the text near the bottom of that chart, but it's also shown by the sign on the outer wheel, where Chiron — which looks like a key or the letter K — appears.)
These chapters will explain what inner and hidden resources are available to you, to help you rise above life's greatest challenges.
In some cases, you'll have such an "ah-HA!" moment, it'll be as if you were struck by lightning.  It's like Achilles just learned to keep his heel protected in battle, and then he's invincible.
If you've been feeling worn down and overwhelmed by life's challenges, this book may have the answers — and help — that you need.
Advanced chapters
More advanced astrologers will enjoy Clow's legendary layers of information and advice.  She weaves mythos and ancient knowledge with advice for your self and advice for your clients, and she doesn't shy away from controversy.
Clow's writing is often extremely academic. For many readers, it's essential to acknowledge the "haven't a clue" passages and just move forward to material you do understand and can use.
This book focuses on energy, as well.  Clow speaks from a long and profoundly intuitive understanding of how we use (or overlook) our power, and the best ways to empower yourself and those close to you.
In most cases, to fully get the significance of what she's telling you — and make the best use of her deeply important advice — you'll re-read the relevant pages many times.
In some cases, you'll do additional research to understand the context of Clow's explanations.
The time spent and related journeys will be worth it.
From a skeptical viewpoint
I've used Chiron in my own astrological studies, but I had only a casual understanding of it.
When I began reading this book, it seemed too challenging and esoteric.  I wanted to be sure the information would be worth my time and effort to get into Clow's writing style.
She held my attention immediately when I quickly checked some of the sample/reference charts at the back of the book.  Two of them (#1 and #37) are almost identical to my own astrological chart.
Sure, I have Chiron in the First House; that's not news.  What startled me was seeing people with the same First House position of Chiron and the same odd array of planets in the 9th house.
If you check your own Chiron features (reference charts are mentioned in text relevant to where your Chiron is), you may be as astonished as I was.
In other words, the charts provided the credibility I needed to see.
For me, this led to a better understanding of where the energy comes from, why I'm often challenged by how others react to me (and what to do about it), and some tremendous resources that I can use in my daily life.
Pros
Unique information from one of the leading Chiron experts.
Vital advice that's been hidden until now.
Useful for beginners, but especially for professional astrologers.
Much of this information appears in no other resource.
Cons
The volume of information presented (and sometimes assumed) can overwhelm beginners and casual astrologers.
First published in 1987, some of the "future" predictions are now history, albeit accurate history.  (I have a 2008 edition of this book.)
Summary
Beginners will want to read a few chapters of this book to help themselves, especially through turmoil related to 2012.  See if your public library owns this book or can borrow it on inter-library loan.
Experienced and professional astrologers will want to own this book. It provides a deep understanding of the impact of Chiron in everyday life and recovering from crises.
If you've been wounded, or know someone who is, and you can't seem to fully recover, this book is could be a huge turning point in a positive direction.
Rating: