Rating:





Move Your Stuff, Change Your Life by Karen Rauch Carter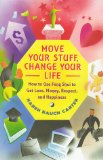 If you've wanted to try Feng Shui but didn't know where to start, this is the best book to "test drive" Feng Shui.
In less than 15 minutes, you can make the only changes you'll need, to see Feng Shui improve your life.  And really, that's all you should do at one time.  A little Feng Shui goes a long way.
This book presents Feng Shui in simple, practical terms that anyone can understand and use.  Whether you need a date for Saturday night's party or relief from money worries, small Feng Shui changes could be all you need.
Order this book or read others' reviews at
Amazon.com or Amazon.co.uk