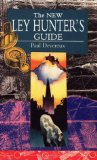 If you're interested in ley lines, The New Ley Hunter's Guide, by Paul Devereux, is an important starting point.
Ley lines are classically defined as straight linear features, globally aligning ancient ceremonial landscapes.
Devereux first provides a brief history of ley lines, from their first modern-day discovery by Alfred Watkins.
Then, Devereux shows us the tools and research techniques to reveal classic, linear ley lines connected to any sacred site.
After that, the New Ley Hunter's Guide includes many maps of eerie and mysterious lines connecting many British historical and spiritual sites.
This is a book that every ley line enthusiast should read, and probably own.  It's the foundational book for modern ley line studies.
However, though Devereux is a respected authority on ley lines, if you're looking for ley lines interpreted with emphasis on energy lines — and not exclusively straight lines connecting landmarks across the landscape — you'll need to build on Devereux's basic information.  Other books and videos document those alternate approaches.
Before you take steps in those newer directions (pun intended), read Devereux's important book.  It's the foundation you need to fully understand the significance of recent "ley line" discoveries, and the heated controversy surrounding them.
Pros
Well written and edited.
Clear how-to information for beginners.
Excellent maps of classic ley lines across Britain.
Cons
Traditional focus on geographically straight lines.  (Many see that as a "pro" rather than a "con.")
Rating:





Click here to buy a copy of The New Ley Hunter's Guide at Amazon.com
Related links