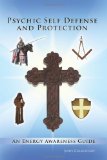 Psychic Self Defense and Protection: An Energy Awareness Guide, by John Culbertson is a very helpful, detailed book mixing New Age beliefs and practices with Christian and Pagan counterparts.
For New Age practitioners, those other ingredients shouldn't deter you from enjoying this book and learning new, useful skills from it. At least 90% of the book works well with most New Age philosophies, and many readers will be fine with everything presented in this book.
For anyone in desperate need of psychic self-defense or protection, this book is a must-read.
The author is both a Mason and a Rosicrucian.  Both provide some extremely powerful — and sometimes controversial — tools for energy work.  All but the most uninformed spiritual dabblers respect those two organizations and what they're able to accomplish.
In addition, the author is bright. His research backs up his claims with facts and statistics.  So, this isn't a heavy-handed manual; it's intelligently presented, and generally in light terms with occasional recommendations for further  study.
However, though most of this book aligns well with all aspects of New Age beliefs, this is definitely not a lightweight, "think happy thoughts" book.  It gives readers many intensely powerful solutions to psychic attacks.
Early chapters are gentle but firm.  I especially like the chapter, "Repairing a Weak Aura and Rebuilding Lost Energy."
If you're looking for psychic protection, "just in case," this is the information you seek, and it may be all that you need from this book.
In the chapters that follow, the author gradually builds your arsenal of tools to protect yourself and those you care about.  His resources range from angels to elemental energy to concepts well-presented in the Celestine Prophecy.
By the time you complete Chapter 7, you probably have all the information you need to protect yourself and people (and pets) close to you.
If you're timid about Rosicrucian and Pagan issues:  The author doesn't breach the topic of magick until the second-to-last chapter in this book.  However, if — before Chapter 8 — you haven't found anything powerful enough to help, you may need the extra muscle of magickal tools.
Remember: Survival is your first priority when you're dealing with severe attacks.
There's nothing unethical in this book.  You may even recognize some of the attitudes in Chapters 8 and 9,  if your beliefs are based in Arthurian or Celtic history.
For everyone else, especially sensitive New Age readers, you can safely close the book at the start of Chapter 8, with enough less controversial tools to protect and defend themselves from psychic and spiritual attacks.
This book has earned our respect as an important contribution to the field of psychic self defense and protection.
Rating: