Rating:





Problems of Psychical Research by Hereward Carrington (with a new introduction by Fiona Broome) is a warts-and-all classic for fans of 19th century Spiritualism.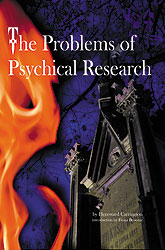 Why do I say "warts and all"?  In this elegant reprint of the second edition, you'll see "ghost photos" that are clearly double exposures.  Others are obviously hair in front of the camera lens.
You'll read opinions that are outdated and claims that were debunked in the mid- to late 20th century.
It's funny and embarrassing to see how naive people once were.
However…
You'll also read fascinating concepts overlooked by modern paranormal researchers.   This book offers an abundance of ideas that could take spiritual investigations to new levels.
Though this book is as dry as a textbook — without the evidence we expect from scientific research — purists and dedicated students of Spiritualist studies will find gems among its pages.
In addition, this edition is printed in a far more readable font than the original book, with a useful index to find specific topics and cross-reference them.
Though we can't recommend this book for everyone, it's a classic that  belongs in the library of any dedicated fan of vintage Spiritualism and paranormal studies.
We look forward to the newly edited and annotated version of this same book,  due in 2010.
Read additional reviews at Amazon.com