Audio guided meditations can be convenient and reliable ways to relax, remove mental barriers, and clearly visualize your goals.
Whether you download guided meditations or purchase them on CD, audio guided meditations are easy to use.  Using any audio player, you'll sit or rest comfortably, close your eyes, and follow the clear and simple directions for a healing journey of the mind, body and spirit.
These are ideal for breaks from your workday, or when you return home after a long day.  Any time you need to pause and re-center, guided meditations can help.
For more information about meditation audios in general, see our article, Audio Guided Meditations.
PRODUCTS
Meditations 2GO are among the best meditation audios in the field.  I highly recommend them.  Though I have the CDs — and they're impressive — you can download Meditations 2GO's guided meditations online.  Their prices are also about half what I usually pay for downloads of equal or lesser quality.
Higher quality meditations
So far, I have listened to the first CD, which includes Restoring Balance and Clarity, and Releasing Emotional Tension.
From the start, I was impressed by the voice of the person speaking throughout these guided meditations.  He sounds like the kind of person everyone knows and likes… the guy with the great, relaxing voice that's just cheerful enough to put you at ease.
In other words, he's not Mr. Happy-happy-happy, driving you up the wall with boisterous energy when you just want to unwind.
I like that.
I also like the ease of these guided meditations.  I've listened to meditation audios (from other companies) that left me puzzled, and I've even hit "rewind" to figure out the next steps in the journey.
Every step in these Meditations 2GO audio guided meditations is clear, simple, and enjoyable.  In fact, the first time I listened to Restoring Balance and Clarity, I dozed off.  (I woke up about 20 minutes later, feeling as if I'd had a full night's sleep.)
Restoring Balance and Clarity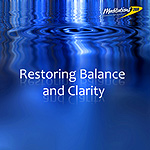 Restoring Balance and Clarity takes you on a relaxing journey, about 26 minutes long, and it effortlessly brings you back to center.   If you're mentally, emotionally, or spiritually exhausted by the rush-rush world around you and conflicting messages (and demands) from a variety of sources, this is the audio guided meditation you need.
As the CD description says, "Using the rich, balanced energy of the earth, you're re-established and reinforce your true, peaceful rhythms and natural pace."
You connect with Nature.  You draw your energies back to yourself, untangle yourself from the confusions and artifice of the outside world, and find renewal within that centered place in your soul.
As the name of this meditation says, you'll restore balance and clarity to your day.
Listen to a sample from Restoring Balance and Clarity
Releasing Emotional Tension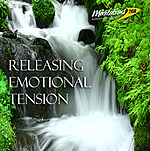 In Releasing Emotional Tension — a meditation lasting about 27 minutes — you methodically let go of tension in your mind and body.  The process is simple and very self-empowering.
In addition, this meditation helps you locate and release the "inner voices" that trigger stress… the self-blame, shame, fear, and regrets that often undermine our confidence.  With those chains released, you can find the peace of mind you seek, and heal yourself at a deep and profound level.
This audio guided meditation is generic enough for any situation that's making you tense.  However, it also speaks to your soul and helps you release the burdens that have been weighing you down.
Listen to a sample from Releasing Emotional Tension
I'm looking forward to listening to the other audio guided meditations in this series.  I'll review them as I do.
However, from these first two audios, I can confidently recommend Meditations 2GO.  At their website, you can purchase their CDs or download guided meditations immediately.
– reviewed by Sarah Skye
Photo credits: Meditation graphics (c) Meditations 2GO