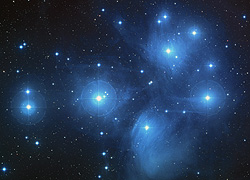 The Pleiadians Files: Hidden and Ancient Records, by Dace F. Allen, is one of those odd books that I can't put down.
It's also difficult to characterize.
If you're looking for wild and weird theories about Roswell, this book will disappoint you. The only references to spaceships, the X-Files and Star Trek are in the introductory sections.
Likewise, if you're looking for clear, current messages from the Pleiadians, this isn't the book for you.
However, if you'd like to discover a strange realm of ancient spiritual beliefs, showing the importance of the Pleiades and gods (or godlike entities) associated with them, this is definitely a book to own.
The back cover of the book states,
"A belief in the Pleiadians isn't new and it's far from fantasy.  It's embedded in our global spiritual history.

"From Asia to Africa to Europe, and from Polynesia to the Americas, people have always placed great importance on the Pleiades.  In fact, they've venerated them."
That caught my attention right away.  How did I not know about this?
The book description continues,
"…within many centuries of ancient beliefs and practices, there's a thread that connects the Pleiades with superior, even godlike beings.

"By studying that history, we see that the Pleiadians have been with us since earliest times."
Allen, the author, takes us on a rather magical mystery tour of ancient cultures.  He (or she?) shows us how the core spiritual beliefs of almost every society focused (no pun intended) on the Pleiades star cluster, and the beings associated with those stars.
Here's what's most important: I haven't seen another book like this one. The author, Dace Allen, seems to be great at discovering "hidden" information. That's where he shines.
In fact, I'm still scratching my head, wondering why I've never seen another spiritual history like this.  Really, I thought I knew all about the roots of Halloween and Samhain, and where the Celtic people probably came from.  I thought I was fluent in the spiritual roots of the Egyptian people, and had at least a working understanding of Polynesian religious beliefs.
I was wrong.
Allen's book sweeps right past that traditional history, and plunges into facts and folklore that seem to be overlooked in almost every spiritual history book I've read.
That's saying a lot.
The book holds together well, and it's generally very credible.  One small exception in the LDS (Mormon) chapter:  I question the author's etymological links between "Kolob" and "Kobol."
However, all the other references that I double-checked, including Allen's Biblical points, seem accurate and well-founded.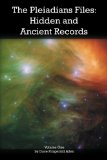 When you read The Pleiadians Files, expect the usual  editorial "eccentricities" found in many independently-published books:  A few typos, some underlined text indicating significant passages, inconsistent writing, and words in bold type when you least expect them.  (A second edition of this book may improve how readable it is… but I wouldn't count on that.)
Despite its quirks, I like this book.  I keep picking it up and wondering why this information isn't better known among New Age and earth-based spiritual groups.
Or, perhaps it is, and I simply haven't stumbled onto it before.
Either way, if you're interested in our spiritual roots, The Pleiadians Files: Hidden and Ancient Records is a book to own, or at least recommend to your local library.
I give it four stars, because this is extraordinary research about a topic that took me by surprise.
Pros:
Fascinating information.
Obscure history important to every study of spirituality.
Draws from a wide range of global cultures.
Cons:
Odd typos that don't significantly affect the important material.
Hastily organized. At least there's an index.
Very academic.
Summary:
Worth owning as a one-of-a-kind reference book for any student of spirituality, or anyone deeply interested in the history of Pleiades-related beliefs.
Rating: