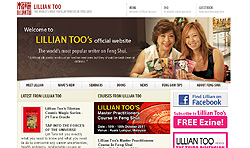 Lillian Too is among the world's most respected Feng Shui authorities.  She has earned that respect over many years, offering a wide range of advice related to life, self-help, and Feng Shui.
Lillian Too is also a prolific writer.  I have no idea how she does so much, between her workshops, website, media interviews, and a steady stream of helpful books.
Clearly, Feng Shui is working for her!
I especially like this website because Ms. Too provides so much free information.
Of course, most of Lillian Too's website promotes her business.  I'm still impressed with her website as a resource of free information, as well.
If you're not sure about Feng Shui — or even what it is — her website is an excellent starting point.
Lillian Too practices (and preaches) traditional Feng Shui.  (Another, more modern form of Feng Shui — called Black Hat Sect Feng Shui, or simply "Black Hat Feng Shui" — is very popular in western countries.)
The Feng Shui forms that Lillian Too uses are the most tried-and-true forms, with centuries of success to recommend them.  Though I can attest to the success of Black Hat Feng Shui, it's smart to know the ancient roots of this practice; that will give you a fuller understanding of every form of Feng Shui.
I'm very enthusiastic about Lillian Too's Space Clearing Kit, if you can find one.  I've owned mine for over 10 years, and the singing bowl from that kit… well, it's in my suitcase whenever I travel.  (If you buy this space clearing kit, used, be sure it has the bowl and striker in it.  The booklet is less important, as she covers the same information in other books.)
If you'd like to experiment with traditional Feng Shui, or simply learn more about this ancient practice, Lillian Too's website is one of the best online.