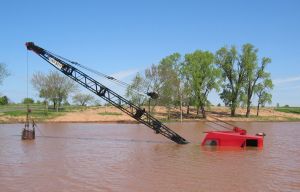 This review could be really short:  If you've ever wanted to do something and then didn't do it… you need The War of Art, by Steven Pressfield.
That's all I need to say.  Skip the rest of this review and go get a copy of The War of Art.
Here's why you need it:
I don't care if you came to a complete halt before you even began the project, this book contains the uncomfortable, bedrock answer to what stopped you.
Writers often talk about mid-book slump.  That's something that hits any creative project, whether it's a book, a diet (that infamous "plateau"), a relationship, or finally cleaning out the garage.
And then, near the end of an important project, there's that deer-in-the-headlights moment.  It might be fear of failure or fear of success, but we suddenly come up with a bazillion reasons not to complete whatever-it-is.  The following are typical:
The book needs another edit.  And, it'll take more time & focus than you'll have for the next week or two. Or three. Or five.
You're too busy to keep exercising, or you absolutely have to eat everything in sight during the upcoming holiday/party/Star Trek marathon.  Then you'll get back to your diet.
You can't get rid of the clutter in the garage without asking your parent, spouse, sibling, or your child who moved out and left his discards behind, oh, about ten years ago.
No matter where you're stuck or why, you need to own a copy of The War of Art.  It needs to be next to your reading chair, or your bed, or whatever physically represents the faltering project.
This is the kind of book you can pick up, open it to any page at all, and see what's really holding you back… staring you in the face on that page.
It's one of those very rare books I give five stars to.
Rating:





My very best advice is to go through Steering by Starlight first, to find your authentic goals and dreams.  Then, keep The War of Art next to you at all times, along with your "perfect life" notes from Steering by Starlight.

That's the combination that totally changed my life for the better.
Like this post? Subscribe to our RSS feed and never miss a review!